by Annette Rosengren. This text is originally in Swedish, and published in Artikel 14, #2 2023. Translation into English by George Farrants.
---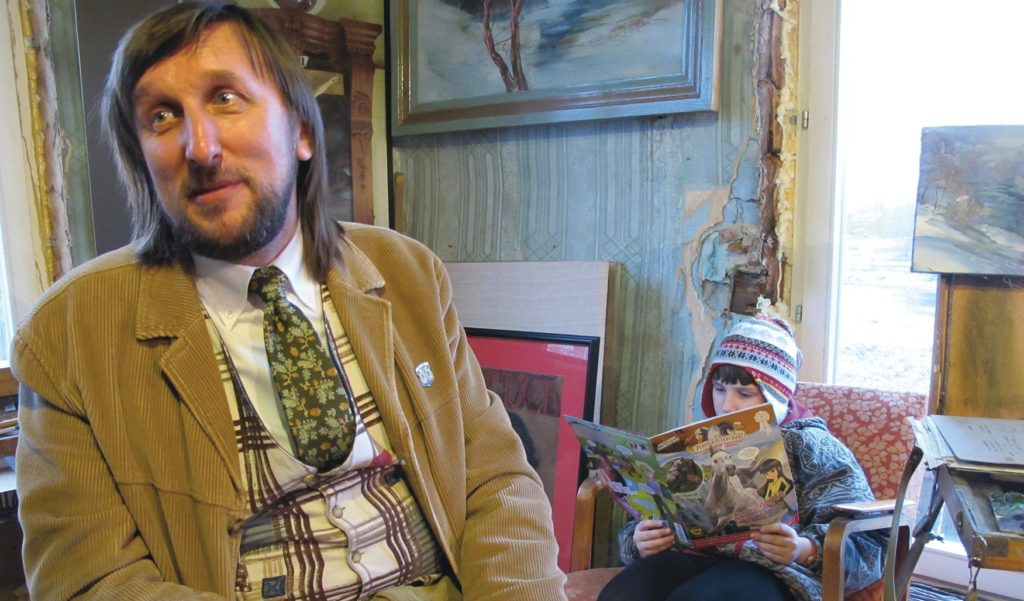 Ales Pushkin (58) is a renowned artist and performance artist in Belarus, and is widely known for his relentless opposition to President Lukashenko. He has constructed art installations and carried out street events in several towns across the country. Ales' work has deep roots in Belarusian folk culture, in the Belarusian language and in Belarusian history, and he has held several international exhibitions. These include exhibitions at Kalmar Art Museum in 2010 and at Dunker's Cultural Center in 2022. He is currently serving a 6-year prison sentence under severe conditions, as a result of his opposition to Lukashenko. His membership in the Belarusian national company for restoration work was revoked soon after his arrest in 2021. Previously, his major source of income had been ecclesiastical restoration work.
At home with Ales
Together with some Belarusian cultural workers, I had the honour of visiting Ales Pushkin at his home in Bobr, close to the small town of Krupki in eastern Belarus in March 2015. One of those included in the visit was an expert in local history, who had been Ales' teacher in the past. He had lost his job after working together with an opposition candidate in the 2001 presidential election. Ales was clearly delighted by our visit, and had dressed specially for it with a tie, waistcoat and tan corduroy jacket. He spoke only Belarusian. Some of the conversation was interpreted into English, but I kept in the background most of the time. Ales prepared lunch for us, and then took us around the studio, describing the artworks there and telling us about his work restoring ecclesiastical art. Since childhood he has been a devout eastern-orthodox catholic, and before eating we all stood with clasped hands while Ales said a prayer with his eyes fixed on a painting of Christ's passion hanging over the kitchen table.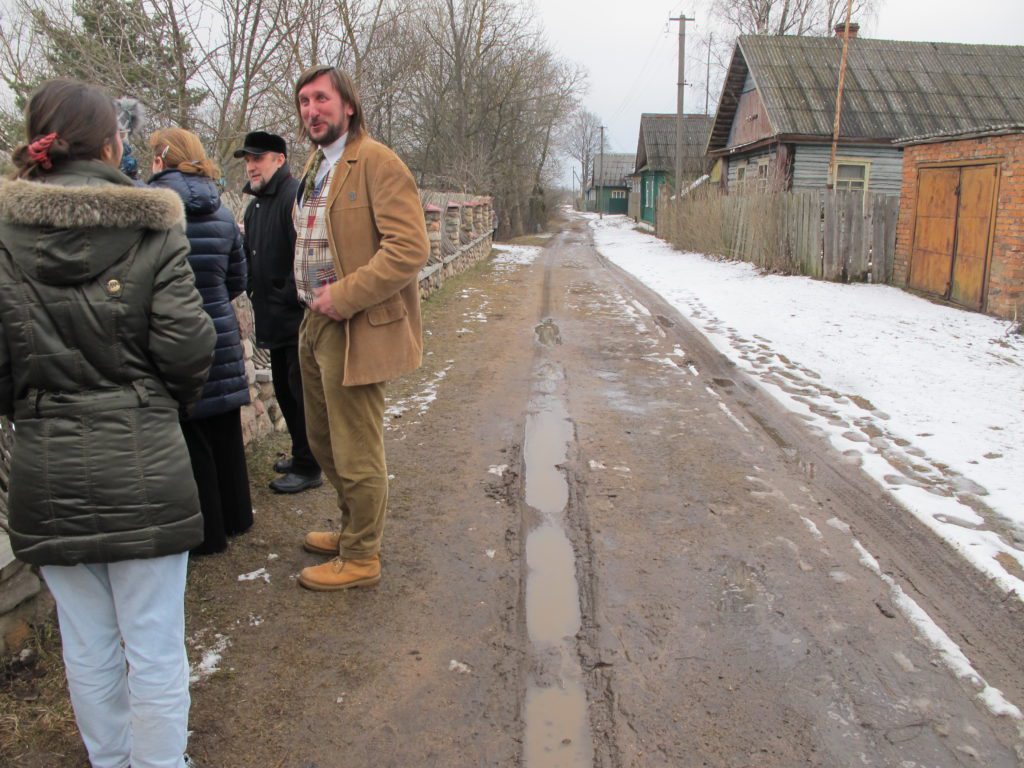 Ales was born and grew up in Bobr, where he lives today, having moved here with his wife from Vitebsk about 15 years ago. He had managed an art gallery in Vitebsk for some years, but had been forced to close. The pair were relatively newly wed, and bought a house and land in Bobr, becoming self-supporting in potatoes, cabbage, tomatoes and other vegetables. Ales' wife is a teacher. Their two children were the only pupils at school who studied Belarusian. The school had initially refused, and Ales had then compelled it to teach Belarusian, pointing out that it was a constitutional right for the country's citizens. He was proud of his children, happy to tell us that they were good at their studies in school and had been awarded diplomas. One daughter, around 10 years old, was at home while we were there: Ales has two older daughters and was looking forward to becoming a grandfather.
The family's house is similar to most of the older houses along the street, rather small and cramped, but well cared-for. The white, red, and white Belarusian flag hangs outside. At the time, Lukashenko had reintroduced the red and green flag used during the Soviet era. The house had an outside toilet with no running water. The trees were home to a multitude of multicoloured bird boxes, and Ales said that these were an expression of the fact that live is love and many children. The birds build their nests in the bird boxes and have many young: "That's what life is like". Across the road, one of his paintings hung on the wall of an old barn.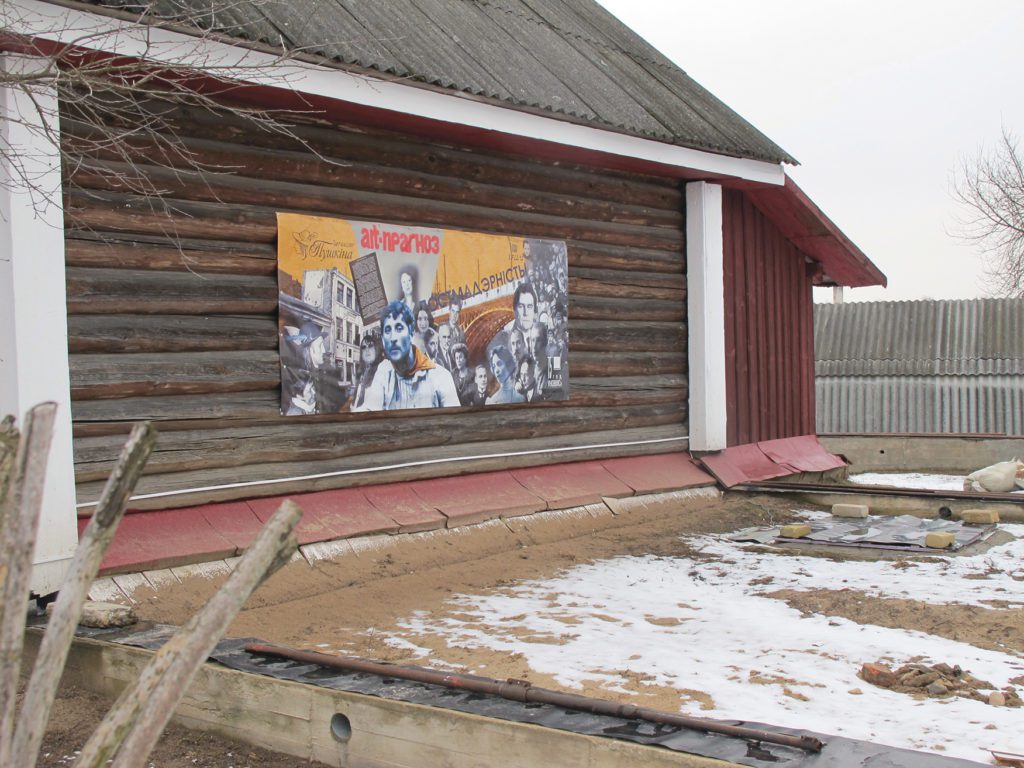 We sat in the airy and happy kitchen, heated by a log-fired cooker. The house was reasonably modern, and I noted the washing machine, electric kettle, computer and TV. A room beside the kitchen was home to many books. My impression of Ales was a warm and friendly person, one who was kind, intelligent and unconventional. He laughed at the idea put forward by some in the village that he should lose custody of the children, since he was a bad influence on them. I felt that there might lie something in this threat. During our visit, I wasn't able to understand the political ramifications of his activities, nor did I appreciate how famous he was in Belarus.
A life in opposition
Ales was around 20 at the end of the 1980s, the period of perestroika. The time was ripe to underline the right of Belarusians to their own language, history and culture, and he was involved in organising the first circle of what was later to become the Belarusian Popular Front. Ales was educated at the Belarusian State Theater and Art Institute, where he focussed on monumental and decorative art. He was an early participant in national manifestations, deepened his knowledge of Belarusian folk history, provoked the authorities, and was subject to various types of prohibition following arrests. He worked at his gallery in Vitebsk for some years and was in 1999 awarded a human rights prize in the "For Courage in Art" category. He became skilled in the restoration of ecclesiastical art and provoked famous politicians on some occasions by using their likeness in church figures. A particularly provocative painting depicted one of the sinners with the face of President Lukashenko. This part of the painting was later removed on the orders of top church dignitaries.
Ales was charged in March 2021 for a painting in an exhibition put on at the independent cultural centre in Hrodna, Belarus. The prosecutor considered the painting to be a rehabilitation of Nazism. Ales was in Kiev at the time and was warned not to return home, but refused to allow himself to be forced into exile from Belarus. His premises were searched by the police on the day he returned, and he was arrested soon after. The curator of the exhibition in Hrodna was also arrested and charged, and the cultural centre was closed. The Viasna Human Rights Centre, the Belarusian Helsinki Committee, the Belarusian Association of Journalists and several other organisations recognised Ales Pushkin as a political prisoner. Camilla Hansén, member of the Swedish parliament for the Green Party, undertook the role of "godparent" for Pushkin.
After being in custody for a year, Ales was sentenced in March 2022 to five years in prison, to be served in a high-security facility. The judgement stated that he had discredited Belarusian national symbols, incited hatred and contempt, and together with others carried out actions intended to justify and rehabilitate Nazism. The sentence has been extended by one year due to Ales' refusal to speak any language other than Belarusian in prison, where the standard language used is Russian. Further, Ales refuses to follow instructions from prison staff. He was transferred to a psychiatric unit for a period, a common method used in the Soviet Union to drug and silence dissidents.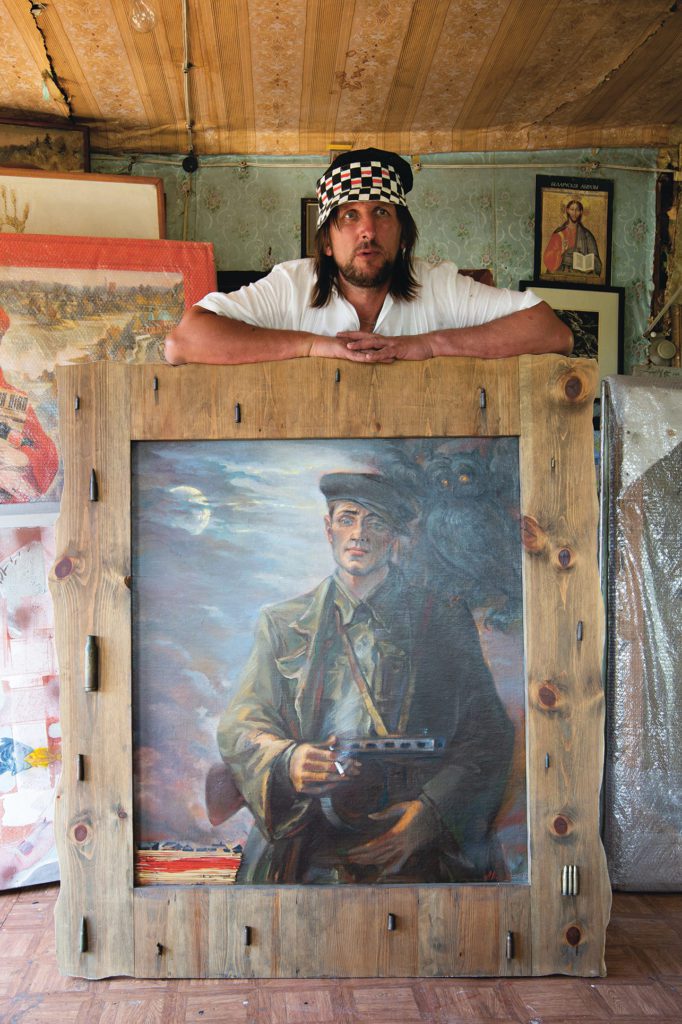 A friend of the family, Janak Kouzel, who has long worked at a university in Germany, has known Ales Pushkin for many years. He has taken on a project in which he follows the artist and photographically documents his life in Bobr. Kouzel's archive contains photographs in which Ales and his friends prepare for and celebrate special occasions of Belarusian folk traditions. He has also photographed objects that Ales has saved from the significant years during which he was being shaped to fight for a free and democratic Belarus. The archive also has photographs of the beautiful countryside where Ales Pushkin lives. Ales' artworks are also represented here, and his annual installation in the centre of the village that marks the declaration of the Belarusian Democratic Republic on 25 March, 1918. Independence lasted only one year before the government fled the country.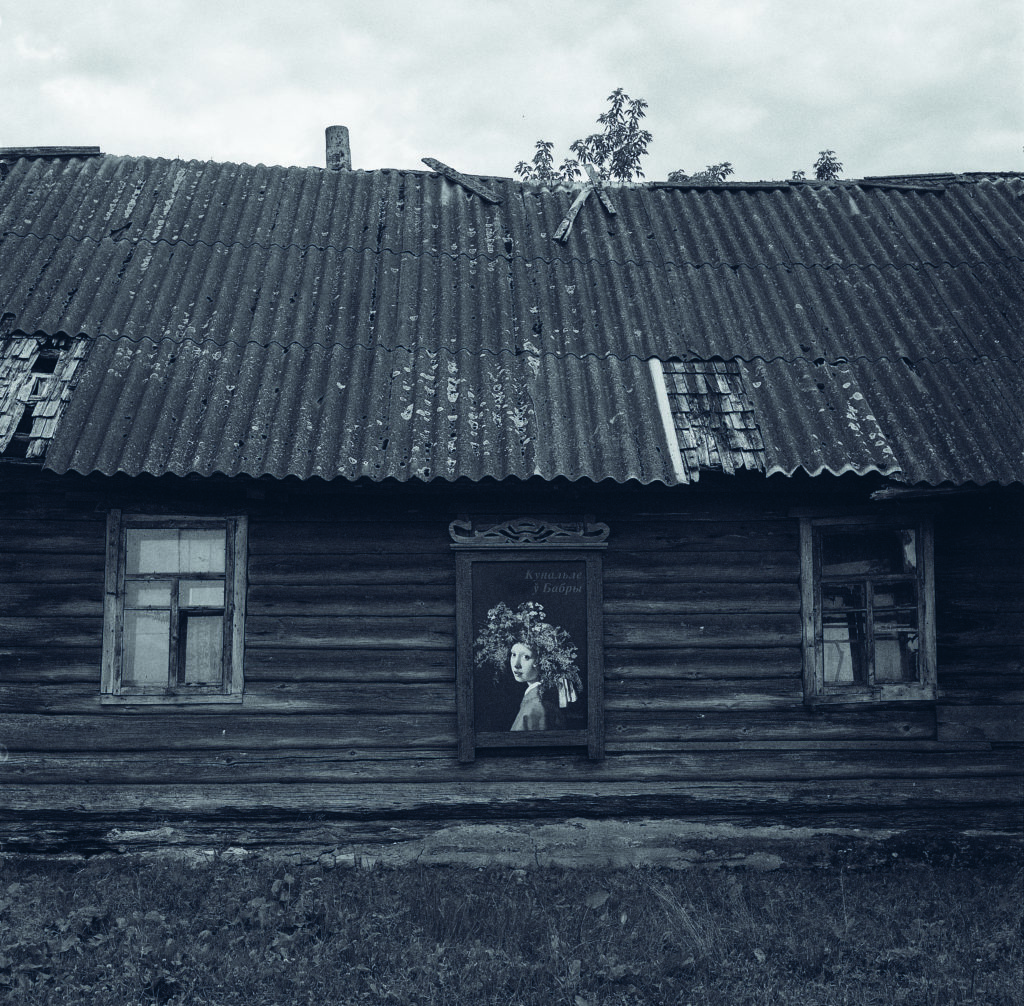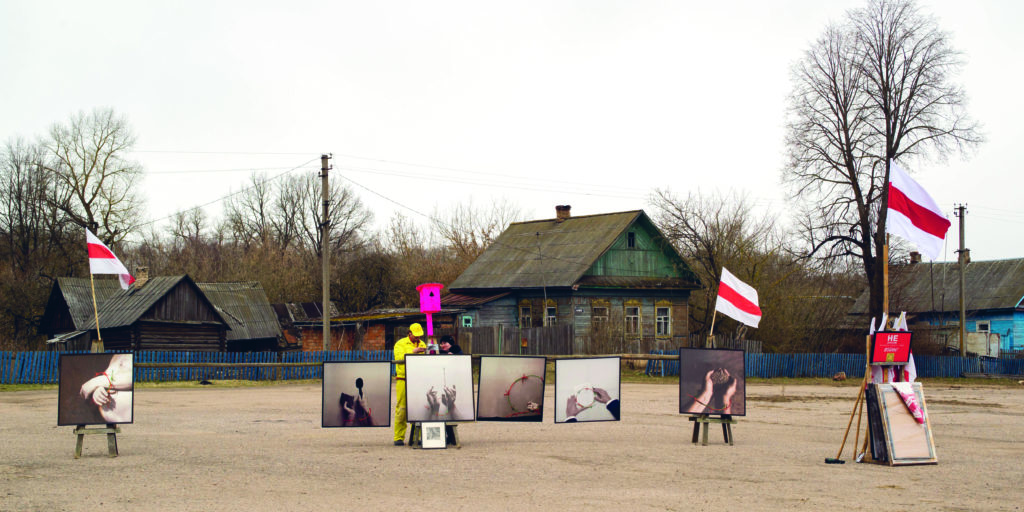 ---
Ales Pushkin died during the night 10-11 July 2023. He had been transferred as an emergency case to the intensive care unit at the hospital, where he died. His wife has stated that the circumstances surrounding Ales' death are unclear. News of his death has spread rapidly in the Belarusian free press. It is not unreasonable to believe that his death was the result of torture. Artikel 14 will bring more information as soon as we know more. Another source of information is the website www.spring96.org. The edition of Artikel 14 focussing on Belarus was published just a few days before Ales Pushkin's death.